The Best Sites to Find Unique Farmhouse Decor on a Budget
Disclosure -The Best Sites to Find Unique Farmhouse Decor on a Budget post contains affiliate links that when clicked generate a commission for Mom Shopping Network at no additional cost to the reader.
I love browsing the best sites to find unique farmhouse decor on a budget. Because really, aren't we all on some sort of a budget? (Some of ours are just a little smaller!)
I also have a post that will help you discover the best stores to find unique farmhouse decor on a budget if you're headed out and about to do your shopping.
On a budget doesn't always mean cheap, it simply means that you have an allotted amount to spend. That should be considered when choosing items for your room.
You can still have the flexibility to choose a pricier piece but it may mean that you sacrifice elsewhere and choose inexpensive items for the remainder of the design. You get the picture.
My Decor Love
Growing up I always loved decorating. My Mom always kept a very nicely decorated home and very clean to boot. She took great care, pleasure and love in making the house a home and gave everything her special touch.
That is how I learned to decorate. But, when I first moved out on my own I couldn't afford to buy new things so I learned to re-purpose and craft and that became my touch and today still is.
Everyone can decorate with all the inspiring blog posts on organization and home decor you have a constant stream of ideas and suggestions (hello Pinterest!).
No matter you level of decoration experience or your budget, here are some great ideas and tips to help you put your touch on everything in every room of your home.
Decor Steals
A daily deal site, Decor Steals is probably one of my favorites simply because they make it so easy to shop. Every day they send me a new deal straight to my inbox. They do offer extended deals but only if the items don't sell out in the first day (which often times they do).
I love that I don't get overwhelmed when looking at what Decor Steals has available. There are usually under 10 deals (5-6 is average) so I don't have to wade through tons of items to see if there's something I want. I do appreciate that, sometimes less is more, depending on my mood, ha ha!

Antique Farmhouse
If a wide selection of unique farmhouse decor is what you're looking for, then Antique Farmhouse is a great place for you to shop. They have an array of antique farmhouse decor, everything from rustic and country to colonial and chateau styles.
The site is set up to show current sale events, and pieces are showcased either by style (such as Country Manor) or by location (such as Everyday Kitchen & Bath).
While their selection is good, they do sell out of items quickly. Make sure when you're browsing you look for the 'sold out' sign below the picture to see if the item is still available. A huge plus is the cost, they have prices that will fit any budget.
While you'll pay hundreds for furniture, many pieces of farmhouse decor are under $40, and some even below 20 bucks!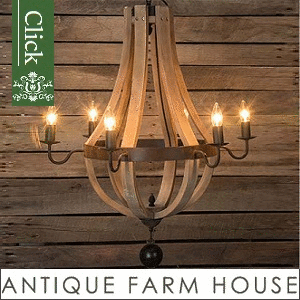 Target
What, Target has farmhouse decor you say? Absolutely, thanks to Chip and Joanna Gaines! Their home and lifestyle brand Magnolia collaborated with Target to launch Hearth & Hand ™, home decor for any budget.
I have to confess, I have Chip & Jo and their show Fixer Upper to thank for my newfound interest in farmhouse decor. Well decorating in general, really. Seeing what they do with each house they restore has inspired me to take on my own projects.
If you haven't read about my Coffee Bar project that we recently completed, be sure to do that if you're looking for coffee bar ideas!
In fact just a year ago I was ready to sell everything and move to Waco, ha ha! But I've since decided this Oregon girl (born and raised!) is staying put (at least for now). One good thing, being that Target is, well, TARGET, the prices are easy on the budget.
Hop on over to Target to see some of Joanna's favorite farmhouse decor pieces!
You can even get style tips to help you create your own story right from Joanna herself!
On a side note, I'm so sad that Fixer Upper has ended ( I know I'm not alone here)! But I am so glad for the inspiration that it has provided to all of us moms out here doing our best to love the space we're in.
Amazon
When you think of Amazon what comes to mind? Books, electronics, toys? I'm guessing unique farmhouse decor probably doesn't come to mind, but surprise! They have lots of it!
From Farmhouse pillows and farmhouse signs to farmhouse bathroom decor and farmhouse kitchen decor, there's something for every decorator on every budget!
In fact, after finding so many great options for farmhouse decor on Amazon, I just might have to do a post dedicated to that topic!
Update: Check out my new post The Best Farmhouse Bathroom Decor on Amazon!
Kirkland's
So many beautiful things are at Kirkland's! From doormats and lamps to wall decor and furniture, they have everything you need to give your house the farmhouse look! They have a new Modern Farmhouse line if you like a more contemporary look, as well as classic items. I could browse their site all day and not get bored! (And spend way too much money…gotta think about my budget!)
Walmart
Last but not least, Walmart has been rolling out some really great new farmhouse style decor. They have everything from farmhouse wall art to farmhouse furniture, and more! Decor for the bathroom, kitchen, and lots of shelves, baskets and bins to help you with staying organized.
I'm actually loving all their tapestries they have out now. If you love nature and the outdoors (which to me totally fits with the farmhouse style) you'll love some of these.
And whether you're a fan of Walmart or not, you have to admit that usually you can't beat their prices.
Whether some of these are new to you or you're already a die-hard fan, I hope you enjoyed this post. No matter where you live, you can truly give any house a touch of farmhouse style by using the right decor.
I think these are the best sites to find unique farmhouse decor on a budget. Have one to add? Leave us a comment below, love to hear your thoughts!
Studies show if you liked this post, you'll also find these ones helpful:
The Best Farmhouse Pillows on Amazon
How Joanna Gaines Inspired Me To Live The Farmhouse Life
If you enjoyed this post, please consider pinning it!