I'll be the first to admit that I don't live in a farmhouse (no matter how much I want to). And if you've read much from me lately you'll know that I don't believe farmhouse decor trends are only for those who live in actual farmhouses. I've said it before and I'll say it again…Farmhouse Style is a state of mind!
That being said, it's a state of mind that almost everyone is in these days! So I thought it would be fun to discuss which farmhouse decor trends we're going to see more (or less) of this year.
Come on, it'll be fun, I promise! (Think watching Joanna Gaines decorate kind of fun. Okay….maybe not THAT fun. But still, here we go!)
This post contains affiliate links for your convenience, which means if you make a purchase, we receive a small commission at no cost to you. To learn more, please visit our Disclosure Policy.
Here are some of the Biggest Farmhouse Decor Trends you can expect to see (or not!) this year.
Copper Farmhouse Sinks
Designer and Houzz contributor Jennifer Ott says stainless steel and white farmhouse sinks are out. (Hold on while I get a tissue for these tears! Even though I do love coppers sinks, I'm pretty set on getting a white one.)
Copper sinks have been gaining popularity and that's not going to change anytime soon. In fact, Ott says to look for concrete, stone, and granite composite sinks to make their way into the ring. Likely in dark hues of grey, bronze or black. It figures, the year I might finally get my white farmhouse sink, the trends change! Oh well! I'm a big girl and I do what I want!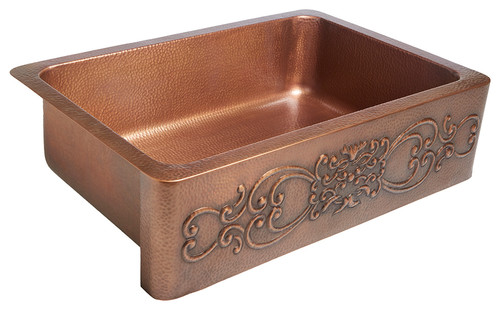 Vintage Lighting
What goes better with a copper farmhouse sink than copper pendant lights!
But copper isn't the only type of lighting that will be in style this year. Consider alternatives like this hammered satin nickel pendant lamp.
This Bella Cottage Pendant Light is also a great example of lighting that exudes farmhouse style.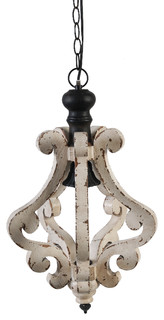 Colored Cabinets
The all white kitchen is super popular, but design experts say trends are navigating towards colored cabinets. According to Houzz, Greys and blues are all the rage. Modern farmhouse kitchens of today are also boasting bleached wood cabinets. These cabinets fit well in both industrial and modern farmhouse kitchens.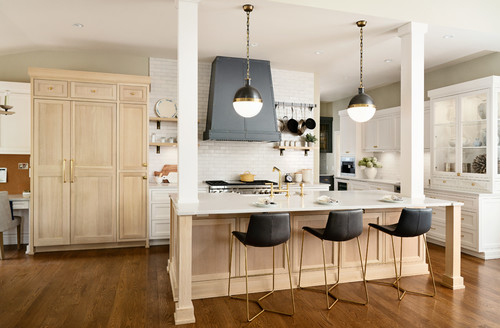 Fringe
Already popular on clothing, get ready to see more use of fringe in farmhouse design this year. From pillows and throw blankets to  curtains and lamp shades, fringe is slowly making a comeback from the 70's right into 2019!
Concrete
While concrete is already used widely in flooring and countertops, expect to see more concrete decor this year. You'll see everything from planters, to utensil holders and even furniture is on the rise.

Farmhouse Signs
These are so popular and have no sign of slowing down (see what I did there?) The cool thing is you can find an abundance of them online, but also at antique stores and flea markets.
Handmade farmhouse signs are all the rage and with a plethora of talented people in the world, they're readily available most places. A few of the most popular can be found on Etsy such as Gather, Bakery, Grocery, Farmhouse, and Super Market. You can see the one I purchased from a local artist and hung over my coffee bar here.
Decorative Backsplash Tile
Oh no, say it ain't so! Don't tell me subway tile is on the way out? To quote Patrick Dempsey in Can't Buy Me Love, "I DID NOT…GET…MINE…YET!" Backsplash with a textured appearance is making its way into the farmhouse scene. Tiles that look like wallpaper, wood, and even fabric are on the rise.
Photo by NeONBRAND on Unsplash
Black and White
This is a classic trend that probably won't ever go out of style. You can incorporate copper, silver or brass accents. Or Adding in pops of color like red, aqua or yellow can brighten up any kitchen, living room or bedroom.
Brass
I can't believe this but brass is back in! I'll be digging out my mom's old lamps from the 70's (see honey, I told you I'd use them one day!) and adding small elements of her brass collection that I've inherited to my home decor.

Gallery Walls
It was once considered tacky and overkill to have too many pictures and decor on one wall. No more! Gallery walls gained popularity in 2017 and show no signs of slowing down anytime soon!
Breakfast Bowls
Popular on Instagram and Pinterest, this new eating trend is bringing with it a trend in decor. Of course the love of traditional white stoneware is still going strong, but people are also adding colorful bowls into the farmhouse decor mix. And of course we can't forget the Rae Dunn obsession!
Photo by Brooke Lark on Unsplash
Metal Barstools
These aren't going anywhere! Metal barstools are already in style and can be found in most farmhouse kitchens. I like the new ones with a wood swivel top!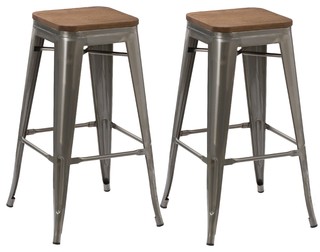 Antique Finds
Of course antique decor is considered a staple in most farmhouses. This trend isn't going to change, and there's certainly no shortage of antique stores and flea markets out there today. Not to mention you can find antique pieces online, as well as some great antique reproductions. So happy antique shopping!
Painted and Wallpapered Ceilings
Oh what to do with the 5th wall! Although this design trend isn't just for farmhouses,  painted and even wallpapered ceilings are becoming accepted as a fashionable option for any room. Check out these paint color trend predictions for 2019.  Not sure if I'm brave enough to tackle that one, all our ceilings remain white. And if my hubby has anything to say about it, they will probably stay that way, ha ha!
Plants
Plants, plants, baby! Thanks in part to Joanna Gaines, greenhouse-inspired interiors are on the rise.  Colorful, hard to kill plants (Yay, I'm in luck) like succulents make a great addition to any room. Oh and if you LOVE Joanna's Plant Lady T-Shirt, you can get it at the Magnolia Shop Online here.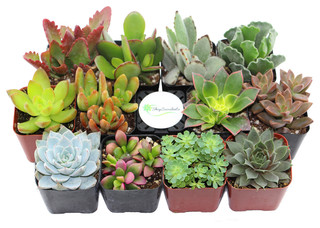 Chunky Knit Blankets
They're everywhere! (At least in my Instagram feed!) And I want one SOOOOO BAD! But they are quite the expense as they're usually handmade.
Update: I got one! Read all about where I got my chunky knit blanket here!
You can find a wide variety on Etsy.
Open Shelving
This seems to be one gotta have it farmhouse decor trend that's not going to change anytime soon.
And although I really love the look of open shelving, I can't get on board to install it in our home. For one thing, we would lose so much storage by removing our upper cabinets.
But the biggest reason is…dust! Although I admit, dusting isn't my thing, our home seems to accrue an over abundance of dust. Quite a bit more than any other place we've lived. The thought of having to constantly wash the dishes that would be on those open shelves is enough reason for me to decide against it.
Copper Stove Hoods
The hood can be a focal point of the kitchen, especially if you do have open shelving. You can dress it up with wood like this one at The Lily Pad Cottage or get a new copper stove hood.
Black Appliances
According to Country Living Magazine, black and slate colored appliances are making their way to the top of the farmhouse kitchen must-have list this year. Personally I've always preferred black over white, but as of now have stainless steel. I wouldn't be opposed to getting black appliances at all though, it's my favorite color.
Farmhouse tables
Farmhouse tables will continue to reign supreme in farmhouse kitchens. Whether made from oak, hickory, walnut, maple, or some other kind of wood, nothing gives your kitchen that farmhouse look like a farmhouse table. Don't have the funds for an expensive table? Why not build your own? Jen from The House of Wood built hers and only spent 85 dollars for lumber! See what her farmhouse table turned out like here.
Want to build your own? Get Free farmhouse table plans here!
Shiplap
Last but certainly not least, shiplap remains the queen of any farmhouse castle.  Getting ahold of real shiplap can be difficult, not to mention costly. There are many ways you can get the shiplap look on a budget by using different types of wood. Check out this post at The Little Green Notebook for DIY faux shiplap ideas, and see how we built our own wood panel wall here.
Some people are choosing several farmhouse elements instead of going full on farmhouse in their entire space.
I think the biggest farmhouse decor trends will be to do what feels right to you. After all, it's your house, you're the main person that has to like it. If you decorate to please yourself and your family, you can't go wrong.
Tell us, which of these farmhouse decor trends do you see yourself implementing this year?
If you liked this post, chances are you'll also enjoy the following:
The Best Sites to Find Unique Farmhouse Decor on a Budget
The Best Stores to Find Unique Farmhouse Decor on a Budget
If you found this post helpful, please Pin it!