We enjoy family movie night at our house, it's something we do on a regular basis. So when I had the opportunity to get a copy of Disney•Pixar's Incredibles 2 our family was over the moon excited as we weren't able to go see it in theaters.
This post contains affiliate links for your convenience. This means if you make a purchase, we earn a small commission at no cost to you. To learn more, please visit our Disclosure Policy.
Bring home the adventure digitally and on Movies Anywhere October 23rd and on Blu-ray 4K Ultra HD ™, Blu-ray ™ DVD and On-Demand Nov 6!
We've always been a Disney family and loved Disney movies. But since visiting Disneyland last summer, we're even more in love with all things Disney.
The Incredibles has been one of our favorite movies for years. When we heard Disney•Pixar was releasing an Incredibles 2, we knew we had to not only see it, but have it!
So we cuddled up with our cozy throw blankets and our favorite popcorn and settled in for the show.
A little about the movie (without giving too much away, no spoilers here!)
In Disney•Pixar's "Incredibles 2," the sequel to 2004's beloved Oscar®-winning "The Incredibles," Helen (voice of Holly Hunter) is called on to lead a campaign to bring Supers back, while Bob (voice of Craig T. Nelson) navigates the day-to-day heroics of "normal" life at home with Violet (voice of Sarah Vowell), Dash (voice of Huck Milner) and baby Jack-Jack—whose super powers are about to be discovered. Their mission is derailed, however, when a new villain emerges with a brilliant and dangerous plot that threatens everything. But the Parrs don't shy away from a challenge, especially with Frozone (voice of Samuel L. Jackson) by their side.
I have to say that the whole family loved the movie. It was fun, exciting and delivered in true Disney•Pixar fashion. I even laughed out loud a few times myself, so yes, I enjoyed it.
The one thing that I really appreciated was how the Parrs are a close-knit family and work together. I think it's so nice to see that portrayed in a movie and it's kind of rare these days as usually kids tend to put their peers before their family.
Here's a sneak peek at the INCREDIBLES 2 – "Auntie Edna" Short, Designing Fabulous
And another one: "Auntie Edna" Clip: Show Me Your Powers
JACK-JACK vs RACCOON Paper Foldables– Print 'em out, cut 'em out, & fold 'em up… Instant Jack-Jack Attack!
Just click the button below to instantly download the JACK-JACK vs RACCOON Paper Foldables, it's that easy!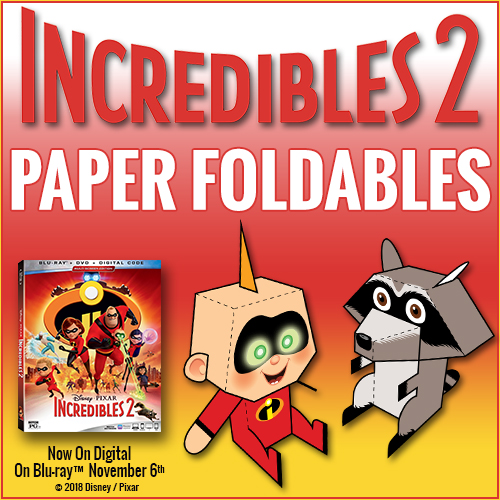 Bring home the adventure digitally and on Movies Anywhere October 23rd and on Blu-ray 4K Ultra HD ™, Blu-ray ™ DVD and On-Demand Nov 6!
Get your copy today!
Hi! I'm Kimi, a writer, wife and mom of four addicted to coffee, chocolate and HGTV! My great loves are my family, the beach and Jesus. For fun I like shopping, (pretending I'm really good at) decorating, and stalking farmhouse decor accounts on Instagram.
Remember life doesn't have to be perfect to love where you are!
Latest posts by Kimi Clark (see all)