I've said it before and I'll say it again, you don't have to live in a farmhouse to have farmhouse style!
I see people decorating their Bathrooms all over Pinterest with Farmhouse Bathroom Decor, so I figured I'd share some ideas of my own.
To be honest, a bathroom remodel isn't next on our list as the kitchen is first. But that doesn't stop me from looking at beautiful farmhouse decor that I hope to add to our space someday. It's so easy to get inspired. You can update your look very simply, even on a budget.
This post contains affiliate links, which means if you  make a purchase, we receive a small commission at no cost to you. To learn more, please visit our Disclosure Policy.
I also wanted to encourage you that wherever you're at in your decorating journey is just fine. Even if you only take away one tip from this post that can help make your life easier, happier or more fulfilled, then my job is done. Do what you can with what you have. It doesn't have to be perfect to be good.
Here are some tips on how to give your bathroom that farmhouse style that everyone loves.
Farmhouse Bathroom Decor Ideas
Storage
Bathrooms need storage, that's a given. You can start by using baskets and bins that have a farmhouse look to them, like this one and this one.


Shelves
Shelving is something that I think can really add a dimension of that farmhouse feel to your bathroom. The neat thing about shelving is you can buy it or even make your own! (Check out this shelf my hubby made me that sits over my coffee bar!)
There are so many different styles available. I love this handmade wood floating shelf  and this metal two piece floating shelf would be perfect for any bathroom!

Toilet Paper Holder
I saw this farmhouse toilet paper holder and right away knew this is what I need in my bathroom. Anyone else have the habit of bringing the phone in with them? Then, you know, you need somewhere to put it…anyway! This toilet paper holder with the shelf is handmade and rustic white. What a neat way to bring that farmhouse look into your bathroom, and it's convenient too!
Soap Dish
I stumbled upon this unique vintage style soap dish, isn't it cool? Now this is farmhouse bathroom decor at its finest! It's amazing how something as small as a soap dish can impact the look of a bathroom.
Towel Rack
More Antique water spigot decor! I thought these were unique and a very good price for a set of two!  Towel racks are fun as there are so many options. You can install towel bars, towel hooks  or even use over the door racks. There are many that have that farmhouse style.
Wall Mirror
You can add a touch of farmhouse by choosing a wall mirror that compliments the farmhouse look. This Barnwood Wall Mirror is pretty, dontcha think?
As pretty as it is, the price is too steep for me. Here's an affordable alternative. It's quite a bit smaller but the price is right, so it would be a good option if you're on a tight budget. If you're crafty, you could even create your own mirror out of reclaimed old barnwood.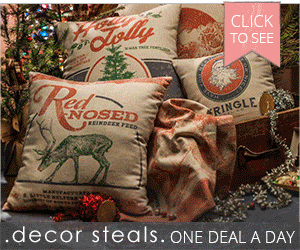 Magazine rack
Would you believe I found this Vintage Industrial Farmhouse Chic Magazine Rack on Amazon?!   It's true! The galvanized metal look is so in right now, and a magazine rack is a must-have in a bathroom. Well it is in mine anyway!
Bath Rugs & Mats
When I think of farmhouse rugs I think of a crisp, clean look. Whites and greys are popular right now for sure. I found this Long Trellis Bath Rug  that would be perfect in grey at Joss & Main!  I also love this White Downey Bath Rug.
Wall Art
Choosing the best Wall Art for your space is one of the most fun parts of decorating. And bathroom decor is no different.  You can go elegant here or you can go casual, it's totally up to you. I've posted a couple of my favorites (because I like funny stuff) I found on Etsy below. I think the wood frames are what give these particular pieces a farmhouse vibe. They have a ton of really cute bathroom signs and farmhouse wall decor. So if funny isn't your thing, no worries. They have other really great options too.
More Farmhouse Bathroom Decor Ideas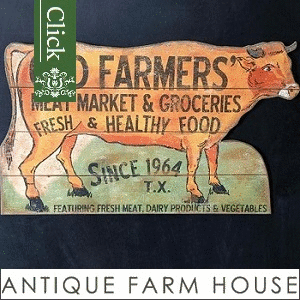 Stoneware Tumbler
My kids go through a million cups when they brush their teeth. Okay maybe not a million, but you get the picture. You'd think I'd get smart and get a couple of tumblers to use instead. They're eco-friendly and if you buy two, you'll always have one available while the other is being washed.
Apothecary Jar
Clear glass jars are seen often in farmhouse decor. This Perkins Apothecary Jar would be great for holding cotton swabs, cotton balls, bath salts, powder or any other item you need stored in your farmhouse bathroom.
Tissue Box Cover
This hammered copper tissue box holder is a beauty. Many people are opting to include copper in their farmhouse decor nowadays (have you seen the copper sinks? They're gorgeous!).
Toothbrush Holder
One of the latest farmhouse decor trends are mason jar toothbrush holders. There are actually full mason jar bathroom sets that include a toothbrush holder, a soap dispenser, and other storage containers. I think these are really neat. If you're the DIY type, of course this is a project you can tackle yourself. There are tons of ideas and how-to's on Pinterest.
Fresh Flowers
This is something I need to improve on. I would love to add fresh flowers to my bathroom (and kitchen too) on a regular basis. I know for some of us who don't actually live on a farm in the country, it's not as convenient as we have to go to the store or market to purchase them. But if you can swing it as a treat once a month or so, I think it's well worth it.
You might also consider getting succulents or plants that will last a long time if getting fresh flowers regularly isn't an option. Or you can always purchase faux flowers too, most are reasonably priced and beautiful.
Well there you have it! I hope these Farmhouse Bathroom Decor Ideas to Help Update Your Bathroom will help you make some changes to improve your home. Remember, even a small change is still a change, and it doesn't have to be perfect to be good.
If you found these Farmhouse Bathroom Decor Ideas helpful, please pin this post!