If you've ever dreamed of living in a beautiful farmhouse, then this post is for you! I'm going to share farmhouse living room decorating ideas that will give any home farmhouse style!
When you think of a farmhouse living room, what comes to mind? I think about snuggling up all warm and cozy, living room ideas that include making my home a comfortable and inviting place.
Whether  you're into rustic farmhouse style home decor, country living room decorating ideas or even modern farmhouse interior design ideas, I'm confident you'll find ideas that will help you create the space of your dreams that the whole family can enjoy.
This post contains affiliate links, which means if you  make a purchase, we receive a small commission at no cost to you. To learn more, please visit our Disclosure Policy.
Farmhouse Living Room decor Ideas
When you're thinking about Decorating ideas for your living room that will give it a farmhouse look, don't hesitate to check out farmhouse decorating blogs for inspiration. These wonderful ladies usually also have gorgeous Instagram accounts to provide inspiration for anyone wanting to learn how to decorate.
Here are a few of my favorite farmhouse decorating blogs: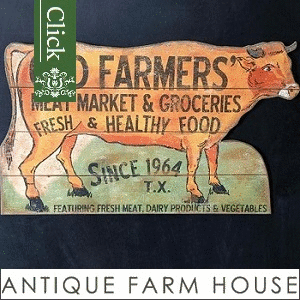 You can find so many farmhouse decor ideas literally from just following them on Instagram. I discovered Rae Dunn Mugs, chunky throw blankets and a style of decorating to help me create a farmhouse style living room of my own, despite the fact that I don't live in a farmhouse!
Farmhouse Living Room Paint Colors
One thing that can give your living room more of a farmhouse vibe is the right paint colors. Painting a room is also one of the most affordable ways to update the look, no knocking out walls required!
These colors are all the rage right now when it comes to creating a farmhouse living room:
Grey, various shades of light and dark
Blue, from light to Navy and Teal
White or Ivory
Green, various shades
Popular brands that have beautiful farmhouse paint colors include Benjamin Moore, Sherwin-Williams and Magnolia Home.
Joanna Gaines Farmhouse Paint Colors, which ones are her favorites? 
Farmhouse Living Room Curtains
When you think of farmhouse curtains, what comes to mind? White or light colored, flowy, airy, vintage looking?
Trendy farmhouse curtain materials include linen, burlap, and cotton, to name a few.
What is the difference between linen and cotton? <– Find out here
Buffalo plaid curtains are all the rage right now along with cotton striped curtains.  Both look really great in living rooms but also kitchens, bedrooms and even nurseries as well.
Living Room Wall Decor Ideas
Living room gallery walls are chic right now, and relatively easy to implement. Personally I like them because they don't have to be perfect.
When creating a gallery wall, you can really let your imagination run wild! You can use a combination of family photos, inspirational quote wall art, farmhouse prints and anything else you like. Mix up sizes and colors too to give it a unique look.
Find tips on how to do that here! 
If gallery walls aren't your thing, you might try these wall decoration ideas for your living room:
Mirror– mirror wall decor used to be quite popular and is making a comeback. I can remember my mom having a gold mirror hanging above our gold couch (yes I'm old, ha ha!) and it looked great.
Those same gold mirrors are being used in farmhouse living rooms everywhere. Etsy has a nice assortment of vintage mirrors available.
If you don't love the gold look, consider painting your antique mirror frame to give it an entirely different look.
Find out how to paint a mirror frame with chalk paint in the video below.
Tapestry– This is a wonderful large wall decor idea for your living room. They used to be a little old school as well but with the variety of styles currently available, farmhouse tapestries are a great option.
Picture Frames–  Using picture frames in your decorating can be fun. There are so many picture frame wall ideas out there, but here are a few.
Use all matching frames that are the same size to display your photos with a cohesive look.
Consider a picture frame with chicken wire to display your photos loosely, in a simple, classic style.
Use a collage frame to exhibit your collection of photos beautifully in one place. This ladder collage frame screams living room farmhouse decor!
Living Room Table Decor
One aspect of decorating is finding  farmhouse living room table decor. Coffee tables and end tables are perfect spots to add a little farmhouse flair to your decorating. Wire baskets, wooden trays, and  vases make great farmhouse table decorations and are easy to change around regularly when you want to update your space.
You might even consider a farmhouse table centerpiece  for your coffee table like the one pictured below. Or if you're a DIYer, you could even make one for yourself.
If you're worrying about scratching your table or even to give it a unique look, a farmhouse table runner will take care of both queries! I simply love the look of this burlap table runner, there are  variety of other similar options on Etsy.
Farmhouse striped table runners are another popular option, and would you believe you can find these at Target?! Because don't we all need just one more reason to shop at Target?!
More Farmhouse Living Room Ideas
The fun thing about decorating a living room in farmhouse style is that there are so many things you can do!
Consider incorporating a few of the following into your living room decor:
Living Room Ideas on a Budget
Repurpose Old Decor
How many times have you found something and thought to yourself, "this has the potential to be something great"? Sometimes you can find vintage home decor that just needs a little love.
Try shopping at flea markets, antique stores and garage sales. Many pieces you find will likely work as is,  since farmhouse decor is all about chippy paint, old and vintage items anyway.
But if you find something old and worn out that you can breathe new life into, by all means, get your DIY on and get to it!
Some ideas that might be good DIY projects for your living room:
Coffee Table
End Table
Sofa Table
Centerpieces
Mirror
Picture Frame
Shelf
Hobby Lobby
One of the best places to find farmhouse decor on a budget is Hobby Lobby. They have such a wide variety of items, and very decent prices.
Their weekly ad offers products at steep discounts, sometimes up to 50% off! They also have coupons available regularly as well as an online clearance section.
You can find everything from wall decor and pillows to table decor and lighting. I love browsing their farmhouse decor online, it helps if you keep a running list of what you want to get.
Rustic Decor
You might be asking yourself what is a rustic look anyway? Natural pieces, often from or inspired by nature that give a warm and cozy feeling is the best way I can describe it.
Rustic living room ideas on a budget would include things like galvanized steel pieces, vintage glass jars or stoneware, and of course wooden shelving.
You might even consider rustic living room furniture, pieces made of natural or reclaimed wood. You can find rustic sofa tables, TV stands, coffee tables, end tables and more on Etsy.
I hope you have found these farmhouse living room decorating ideas helpful! If you have anything to add, feel free to leave a comment below.
Studies show if you liked this post, you'll find the following helpful as well:
Farmhouse Kitchen Ideas Every House Needs to Be Amazing
Farmhouse Bathroom Decor Ideas to Help Update Your Bathroom
If you enjoyed these tips for decorating a farmhouse living room, please pin this post!