If you're looking for farmhouse master bedroom ideas, you've come to the right place! Farmhouse bedroom ideas have become quite popular and  many people want to incorporate Farmhouse style into their master bedroom.
We're here to help with that! In this post you'll find tips and ideas on how to create an amazing farmhouse master bedroom.
This post contains affiliate links, which means if you make a purchase, we receive a small commission at no cost to you. To learn more, please visit our Disclosure Policy.
Let's get started!
Farmhouse Bedroom Ideas
Master Bedroom Plan
The first thing you should do when transitioning to a farmhouse bedroom is to come up with a plan. What do you want your room to look like?  Do you want modern farmhouse style or a rustic master bedroom?
Look up master bedroom ideas on Pinterest and get a visual of the type of farmhouse decor you want in your room. You can create a special board to save your ideas, call it "Fixer Upper Master Bedroom" or something like that.
Or go old school (like me) and write down (or even sketch out) all of your ideas in a notebook.
Photo by Bret Franks Construction, Inc.
Farmhouse Bedroom Set
One of the main ways to totally transform your bedroom into a farmhouse inspired sanctuary is by adding farmhouse bedroom furniture.
Consider adding the following farmhouse master bedroom furniture: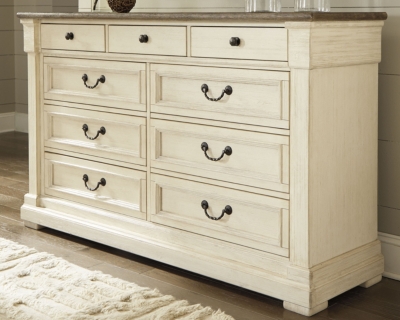 Now mind you, I realize getting new furniture might not be in the cards for you right now.  If that's the case, you might be able to update your existing furniture by painting it.
Here's a great tutorial on how to paint furniture with chalk paint.
There are also wonderful tutorials available for making furniture if you're the DIY type. For example this post from Lovely Etc will show you how to DIY an Upholstered Headboard. View it here. Wait until you see this, it's so beautiful!
Farmhouse Bedding
Once you have the furniture, you can spruce up your bed with some new bedding. You can find Farmhouse bedding ideas at many stores online, from comforters and farmhouse quilts to bedspreads and throw pillows, there are a wide selection of items available.
We've procured some of our favorite farmhouse bedding below with direct links to products for easy online shopping!

Farmhouse Bedroom Decor
Now the part that can really help create the look of a farmhouse master bedroom, the decor!
Adding farmhouse decor to any room can alone give it farmhouse style, even if you can't change out anything else at the moment.
This is one thing I love about decorating, it doesn't have to be done all at once. Small changes can make a big impact. Do what you can, as you can afford it.
Here are some Master bedroom decorating ideas to consider adding:
Farmhouse Lighting
Whether you like rustic indoor lighting, industrial farmhouse lighting or modern style, adding the right lighting can help transform your room.
A few farmhouse lighting ideas for your master bedroom are below.
You can find farmhouse lighting at Home Depot, Decor Steals, Antique Farmhouse, World Market, and even Walmart!
Sliding Barn Door
I would absolutely love to have a sliding barn door in my master bedroom but alas, the layout of our room won't permit it.
I think a single barn door on a closet looks so neat and rustic. Or if you have an ensuite bathroom, it would work really well also.
If you want info on how to build barn doors, check out this post from Jenna Sue Designs, you'll love it!
Throw Rug
Nothing changes the look of a room quicker than a throw rug. You can get farmhouse rugs for any room, and most of them actually go quite well in a variety of spaces.
Amazon actually has a nice selection of farmhouse throw rugs for bedrooms. If you like more modern style, check out this farmhouse area rug.
Mirror
Adding a farmhouse mirror definitely helps create that farmhouse inspired look. We found quite a few lovely options at Kirkland's and have listed them below for easy shopping!
Shiplap Round Wood Wall Mirror
Rustic Wood Shuttered Wall Mirror
Distressed Barn Door Wall Mirror
Farmhouse Clock
Again, easy and affordable to add to a bedroom. Whether you have room for a wall clock or simply would like an alarm or tabletop clock, there are no shortage of options. We've posted a few below to give you some ideas.
Wooden Alarm Clock
Decorative Tray
Decorative trays are great pieces of home decor as you can really use them in any room at all. But for the purpose of this post, we're talking about using them in the master bedroom.
I love the fact that there are so many different styles of farmhouse trays. You really can find them everywhere!
This is one of my very favorite places to find farmhouse trays.
When it comes to farmhouse tray decor, the sky is the limit. Place them on your nightstand to hold books, reading glasses, chapStick and whatever else you like to keep easily accessible by your bedside.
Use a tray on your dresser and put candles, greenery, flowers and knick knacks on it.
You can use a metal or wood farmhouse tray, both do a stellar job at adding a little farmhouse flair to your master bedroom.
Vases
Farmhouse vases are such fun to find! There are such a vast array of styles and colors.
My favorite places to find farmhouse vases are at vintage shops and garage sales. But this online store also has a ton of them, and some are really decently priced! In fact, these white rustic ceramic vases are some of my favorites!
Choose glass, tin, ceramic, stonewear, metal, wood and more! The sky is the limit when it comes to decorating with vases!
Farmhouse Storage Baskets
Most master bedrooms need some type of storage. Choosing farmhouse style storage baskets will put you one step closer to your dream master bedroom!
Blanket baskets have become quite popular. I love the idea of having a place to store extra blankets for your bed for those chilly nights that also doubles as farmhouse decor!
A few ideas for farmhouse baskets include:
I love hobby lobby baskets, they have an amazing variety of all styles, especially farmhouse!
Farmhouse Signs
This is no doubt my favorite farmhouse master bedroom decor and the easiest (and cheapest) way to update your bedroom.
Farmhouse signs are all the rage and can be found online, at flea markets, in boutiques and even big box retailers.
If you're wondering what to hang over the bed in your master bedroom,  we've found some gorgeous over the bed signs .
Have a look at these Etsy farmhouse signs below.
Take My Hand Take My Whole Life Too Sign
You Will Forever be My Always Sign
Every Love Story is Beautiful Sign
Farmhouse Bedroom Paint Colors
Now I'm the first one to admit I'm no expert when it comes to choosing paint colors. Good thing there are many of my blogging friends who are experts in this area!
Check out this post: Farmhouse Paint Colors for your Bedroom from The Rustic Elk  She gives really good advice when it comes to paint colors!
I do know that painting a room is one of the simplest ways to give it a new look. (I mean, they say it's simple. To me, moving and covering everything in the room doesn't sound too simple, LOL!)
But color definitely plays a part in giving any room farmhouse style.
Shiplap Walls
Adding a shiplap wall (or two, or four) to your master bedroom is another option for creating a farmhouse inspired look.
Photo by LMK Interiors
You can find shiplap wall ideas all over Pinterest, but here are a couple of my favorites:
DIY Shiplap Wall for Under $40 
I haven't decided if this is something I want to do in our master bedroom yet, but we did do a plank wall when we designed our coffee bar and I absolutely love it!
Well there you have it! I sure hope these tips on How to Create an Amazing Farmhouse Master Bedroom have given you some great ideas for designing your own farmhouse master bedroom sanctuary.
If you found this post helpful, you might also like the following:
The Best Farmhouse Pillows on Amazon
The Best Stores to Find Unique Farmhouse Decor on a Budget
And if you enjoyed this post, please Pin it!