So you want to update your kitchen, but you don't have the money for a full-on remodel job.
What if I told you that there are a few things you can do to give your kitchen an updated look without spending a lot of money?
This post contains affiliate links, which means if you make a purchase, we receive a small commission at no cost to you. To learn more, please visit our Disclosure Policy.
Sometimes simple changes can make a world of difference!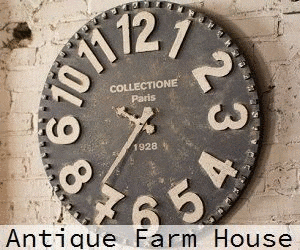 Here are ways you can update your kitchen in 5 easy steps.
New Tablecloth or Placemats
Changing your table setting can definitely change the look of your kitchen. But maybe you don't have the funds to swap out your old kitchen table for a new one. Getting a new tablecloth, or even placemats, can do the trick. It will give your table an entirely different look, and the good thing is, you can change it up at any time!
With a few tablecloths or a couple sets of placemats, you can give your kitchen an updated look every few days!
Chair Covers
From padded seat covers to covers that fit over the entire chair, there are many different kinds of chair covers. We use these ones and have been happy with them. I just throw them in the wash when they get dirty (and you know they will, because…kids!). They're definitely family-friendly, we have been using ours for probably 8 or 9 years now and they're still holding up great.
You can learn more about the chair covers we use at our house here.
Inspirational Wall Hangings and Pictures
I don't know about you but when I'm at the sink doing the dishes, I often look at the walls around the window in front of me. Having inspirational wall hangings and pictures makes me feel a little bit happier, even if I am stuck in the kitchen cleaning up. (Truth be told, I don't mind dishes too much, especially now that all the kids have started helping out!).
Wall decor is a super easy and inexpensive way to update your kitchen. In fact, if you have storage at your house, you can have a few items of decor on hand to give your kitchen a mini overhaul anytime you feel like it.
I have a few things the kids have made me over the years hanging on the wall too that are very special and give the space a very personal touch.
*Update– These items have now come down as we figure out what we're going to do for our new backsplash. (Don't worry mamas, I saved everything!)
We're thinking about doing something like this Faux Subway Tile Backsplash like the lovely Heather from Beauty for Ashes has in her kitchen. I just love it! (And if you have a chance, check out Heather's entire blog too, it's really great!)
New Canister Set
You wouldn't think this would make such a big difference but it really does. Especially if you normally have your canister set sitting on your counter like I do. Changing out your canister set will definitely give your kitchen an updated look and is something you can do even on a budget.
Coffee Station
My day starts with coffee (and if it doesn't, God help you all!). I have an area for my coffeemaker and right now keep my coffee cups in a cupboard. What I'd like to do eventually is have more of a Coffee Station that is dedicated to coffee cup storage, my coffeemaker and sugar & creamer. I'm adding this idea to my kitchen remodeling plans now!
We recently got a Keurig as well so having a place to store all the Kcups would be great too!

*Update– If you haven't seen it yet, we now have a coffee bar! Be sure to check out our Coffee Bar Post to see how it turned out!
So there you have it, 5 Easy Steps to Update Your Kitchen. But wait, there's more!
If you have a little more moola and a little extra time, consider throwing a new coat of paint on your kitchen walls. It will give your kitchen a new look, and can be done quite affordably if you watch for sales.
Which one of these ways to update your kitchen can you see yourself doing? Feel free to leave a comment below.
Studies show if you liked this post, you'll also find these ones helpful:
5 Steps to Organizing Your Kitchen in a Weekend
Must Have Kitchen Tools & Gadgets Every Kitchen Needs
If you enjoyed this post, please consider pinning it!