Fixer Upper fans unite! If you love the show as much as I do, I'd like to share with you how Joanna Gaines inspired me to live the farmhouse life.
And no, I don't live in a farmhouse!
Ever since I stumbled upon the popular TV show Fixer Upper I have to say, my life has changed. Wanna know how? Keep reading and I'll not only explain, but show you how you can bring a farmhouse vibe into your home too!

This post contains affiliate and sponsored links, which means if you  make a purchase, we receive a small commission at no cost to you. To learn more, please visit our Disclosure Policy.
Joanna Gaines inspired me to live the farmhouse life, and you can too!
The Before Story
Before Fixer Upper and Joanna Gaines entered my life, I was content with a home that lacked, shall we say, any sort of direction. I went for over 20 years (you heard that right, 20 years!) not really caring much about home decor at all. What decor I had was for the most part what was given to me. I would only go out and purchase something if  I absolutely needed it.
Not that there's anything wrong with hand me downs! After all, antiques are basically hand me downs from someone long gone that you never knew anyway. But for me, I never really cared much about having my house look nice. If I kept all four kids alive and all the walls were still standing at the end of the day, I considered that a success in my book!

Now
Fast forward to now and my kids are now 25, 21, 14 and 11. Old enough to know what they can mess with and what they can't. So now I feel like I actually have freedom to put out home decor without worrying about it getting broken or ruined.
Thanks to Chip, Joanna and their show Fixer Upper, Farmhouse Decor is all the rage. I have to admit, when I was young I always had visions of living poor in a farmhouse. (Why my vision was being poor I don't know…you think I'd want to get away from reality!) But when I became an adult I was all about the city…until I moved there. Fantasy is so much better than reality sometimes! So back to my smaller town I went, but it wasn't country life. We live near the center of town about 1 mile from our local Walmart.
Anyhoo, this newfound love of all things farmhouse has stirred something in me that I didn't even remember was there. So I get very excited about finding new farmhouse decor trends and love sharing them with other moms. I want you to know that whatever stage of life you are in, you can live the life you want. Love farmhouse decor? No farmhouse needed, you can add a touch of farmhouse to your own space.
And your entire house doesn't have to look like it's out of a magazine for you to be happy.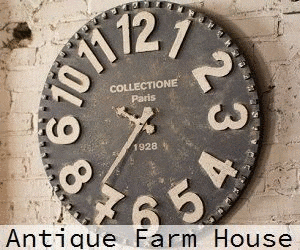 Here are some small ways you can incorporate farmhouse decor into your space and live the farmhouse life, no matter where you live.
Make Small Changes to a Room You Use Frequently
The easiest way to change the look of a space is to change up just a few things. It's amazing how small things really do make a huge difference. Swap out your throw pillows in the living room for farmhouse throw pillows. Add a comfy knit throw blanket to your family room. Pick up a new display tray, flower vase, or succulent for your kitchen. Hang a farmhouse sign over your coffee bar.
Little changes can go a long way in making you feel good about where you live. Plus for me, they inspire me to make the bigger changes…things like painting, flooring, and furniture…as we are able and our budget allows.


Kid Friendly Decor
Now if your kids are older this won't apply to you. But if you have littles, you already know how important it is to make sure your farmhouse decor is kid friendly.
Maybe instead of buying new throw pillows you get farmhouse pillow covers. That way you can slip them off and wash them when they get stained or dirty…and they will, because you have little kids.
Rather than real flowers, get some artificial ones. Some of them are really pretty! I picked up some at our local Dollar Tree and really like them.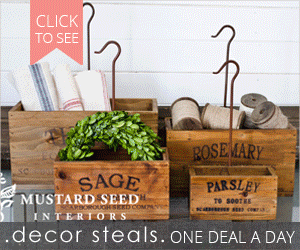 One thing that I really like about farmhouse life is that many furniture and home decor pieces aren't brand new. They're antiques and hand me downs.
They're beat up, have chipped paint and overall not in the best shape. Which makes it the perfect decor style for moms with small children.
Oops, Johnny ran his cars over the table…no worries, it's already chipped and scraped up, no one will ever know!
Then again, if brand new is more your style, there are so many beautiful options when it comes to farmhouse dining tables!
Have Something Just For You
I think every woman deserves to have something in her house that's just for her. Something that you love, no matter what anyone else thinks of it.
Whether that be decor that sits on your kitchen counter, a special area of your master bathroom fixed up the way you like it, or your own coffee bar.
Maybe it's just your own throw blanket that is only yours, no one else uses it! Whatever it is that you like, make sure you incorporate it into your space.
Keep it Functional
If you've watched Joanna decorate at all, you know she goes all out. But she also aims for functionality. After all, we have to remember that these are real houses with real people living in them.
Having a beautiful house where no one can be comfortable to do anything isn't what most of us are aiming for.
Everything can't be perfect all the time.
When kids come home from school with a ton of paperwork, you bring in the mail, or the kids pick up toys, have spots set apart to keep things in when life happens.
Make sure there is enough storage. Incorporate shelving, baskets, crates and bins.
Your home needs to be functional enough for your family to live in it.


Farmhouse Life Puts Family First
We want our families to be happy, to be able to put their feet up and enjoy watching sports or a movie. To gather around the kitchen table and enjoy each other's company. To make the necessities of keeping up a house as simplified as possible.
Having farmhouse decor is fun, but it shouldn't be at the expense of your family's well being. Make sure they are happy. That they are comfortable.
That they enjoy living the farmhouse life. Because in the end, it doesn't really matter what style of decor we use, it's about the people we love and making our space a safe, comfy and beautiful place where they want to be.
This is how Joanna Gaines inspired me to live the farmhouse life, with no farm in sight. How about you, do you find yourself dreaming of the farmhouse life?

If you found this post helpful, you might also like the following:
Trendy Farmhouse Living Room Decorating Ideas You Need to Know
Farmhouse Kitchen Ideas Every House Needs to Be Amazing
And if you enjoyed this post, please Pin it!