You don't have to live in a farmhouse to have farmhouse style!
The Farmhouse look is all the rage these days. It's everywhere….Pinterest, Instagram…heck I've even written  posts about where to find farmhouse decor on a budget and farmhouse decor ideas to help update your bathroom.
And while everyone and their dog (and chickens, and baby goats- oh how I want baby goats!) seems to be living the farm life and restoring their old (or newly acquired) farmhouses, we're not all in the same boat.
So what if you're a wanna be farmhouse owner, should you just sit and sulk just because it's not something you can do right now?
Of course not!
This post contains affiliate links, which means if you make a purchase, we receive a small commission at no cost to you. To learn more, please visit our Disclosure Policy.
Friends, let me tell you a little secret…
Farmhouse Style is a state of mind!
What do I mean by that?
No disrespect to real farmers here. But what I mean is, you don't have to live in a 100 year old farmhouse to have Farmhouse Style. You don't even have to live in a farmhouse at all!
Farmhouse design is about more than the house itself.
Sure, there are plenty of things an old farmhouse has that you won't get in a newer or even different style of house.
But friends, farmhouse decor can be used anywhere.
And that means whether you live in a Colonial, Craftsman, Cape Cod, Contemporary, Modern, Victorian, Cottage, Log Home, Townhome, manufactured home, apartment, or any other type of residence, you can give your space the farmhouse look!
Of course the main thing you need to decide upon is your budget. Farmhouse design project can range from remodeling your entire kitchen all the way down to getting a few pieces of decor here and there as your budget allows.
Check out this post to learn more about the best stores to find farmhouse decor on a budget!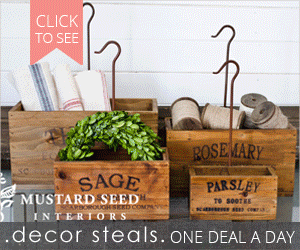 Here are tips on how to make any house look like a farmhouse, no matter where you live.
Choose a Room
We all have to start somewhere. For me, it was our dining room where we installed a wood plank wall and added a coffee bar. Maybe your budget won't allow for a project that big, or maybe you can go bigger. Wherever you're at, it's okay. Pick one area and then focus on making the changes you decide in that one room only. I do recommend working on the space you've chosen until it's done though, if possible. Once you get started on another project there's a tendency to move forward and sometimes that means a few little things get left unfinished.
Decide on Specifics
Knowing what you want to accomplish ahead of time will be helpful in not only getting your redecorating done, but also in sticking within your budget. Have a plan: are you painting walls? Changing flooring? Replacing furniture? Updating lighting? Or maybe all of the above?!
If you're Focusing on farmhouse decor only, here are tips to help give your space the farmhouse look without breaking the bank.
Attend Flea Markets
I just love Flea Markets! To tell you the truth, I've only been to a few. But luckily one started up recently that's only a town over from me and it runs a couple times a month. You can find all kinds of neat treasures at Flea Markets, from antiques, to handmade or upcycled farmhouse decor and much more. I purchased a really cool sign for my coffee bar at ours, I just love it. And one of the benefits of shopping flea markets is that some sellers are willing to negotiate a little on prices.


Hit Garage Sales
I come from a long line of women who loved to go garage saleing. Every weekend my mom and aunt would grab the local paper (this was before the internet) and write their list of places to hit. Of course they'd be sure to find the ones first that mentioned items in the ad they were looking for.
You can find unique items at garage sales. You know the saying, "One man's junk is another man's treasure"….well it's true. I've seen people get  rid of things that were actually worth money. My mom purchased a Steiff bear thinking it was just a cute little teddy bear. We're not sure exactly what it's worth but think it's at least in the hundreds (if not thousands) of dollars. Not too bad for a 25 cent investment!
I introduced my girls to garage saleing a few years back. They love it! The idea that we can go out with even a few dollars and they can find a few small treasures is really fun for them. And now that we're redecorating our house we're going to hit even more this summer. To me, garage sales are for bartering. I hardly ever walk away paying full price. Yeah, I get that from my mama too.
Browse Goodwill and Resale Shops
Again, this runs in my blood, although I have to admit I don't frequent resale shops anywhere near as often as my mother did. But you can certainly find diamonds in the rough if you  know what you're looking for. We have a really great resale shop not far from where I live that carries furniture and home decor. They have antique and vintage items mixed with new that would help to give any house the farmhouse look. Be sure to check in your neck of the woods, you might have something similar nearby.
Shop Deal Sites
You can find great deals on Farmhouse home decor online if you know where to look. I get several emails a day from my favorite sites that offer a limited selection of stylish decor. But you have to be quick, some of the items sell out in hours! Go here to learn The Best Sites to find Farmhouse Decor on a Budget.
Use What You Have
Clean out that garage, attic, basement (or wherever you have to store your stuff) and those closets and you might discover things you haven't seen in quite awhile. See if old things will fit with your new decor style. You might even repurpose items if possible.
Be You
Don't be afraid to be unique! The great thing about deciding you want to make your space look like a farmhouse  is that you can change as much or as little as you want. Maybe you just want a farmhouse inspired bedroom or bathroom instead of the entire house? That's totally fine! Or maybe you'd just like to give a corner of your living room the farmhouse look….also fine. Your house, your choices. Be you and let your likes and taste shine through and you can't go wrong (no matter what the experts say)!
Purge
No doubt if you're redecorating and adding new items, you'll be left with things you no longer need or want. Or that don't fit the new space. If you have ample room for storage and you think it's something you might use again then great, you can hang on to items. But many of us don't have that luxury, so if it's not being used, I say purge it. Sell it, donate it, whatever you want to do. Out with the old and in with the new, make room for your new farmhouse design.
Take Time
Maybe your budget won't allow you to make over an entire space at once. I totally get that!  Add a few new pieces here and there when you can. It might take some time, but that's okay. Eventually your farmhouse look will come together, little by little. You'll get there.
I hope these tips on how to make any house look like a Farmhouse have helped you realize that you can achieve the look you want, no matter where you live. And yes, even within your budget.
Planning on doing a little renovation or redecorating? Leave a comment below, we'd love to hear what you're working on next!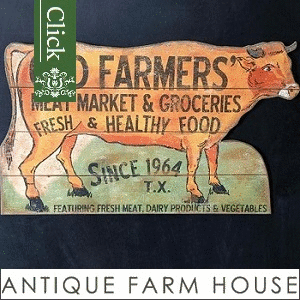 Studies show if you liked this post, you'll also find these ones helpful:
How Joanna Gaines Inspired Me to Live the Farmhouse Life
The Best Farmhouse Bathroom Decor on Amazon
If you enjoyed this post, please consider pinning it!