Favorite Makeup Products
Disclosure: My Favorite Makeup Products post contains affiliate links, which means if you make a purchase, Mom Shopping Network will earn a commission from the sale (but doesn't cost you any more).
To learn more, please visit my Disclosure Policy.
I think we all have our favorite makeup products, am I right? But as a work at home mom, I don't get to talk much about makeup because quite honestly, some days I don't even wear it!
But there are my go-to favorite makeup products that on the days I do wear makeup, I use every day.
Here are my favorite makeup products, in no particular order:
Foundation
Bare Minerals
I wear Bare Mineral loose powder foundation and I really like it. I have used (and still use) other brands as well, but this is my go-to foundation for a normal day at the office (which is at home, in case you're new here!).  It's not heavy but gives great coverage, and stays on all day.
Another thing that I like about Bare Minerals is that it's sweat proof makeup. So whether you're looking for sweat proof gym makeup or just a great sweat proof foundation because it's hot out or you sweat a lot, it's a great choice!
Mineral Hygienics Foundation
Another favorite of mine is Mineral Hygienics. They have a wide variety of colors so I'm sure you'll be able to find one that suits you. I love that you can get an entire starter kit that includes two foundation shades, an enhancer and a finishing powder. Right now you can get FREE Shipping On Orders Over $30! Use Promo Code: FREESHIP.
For those times when I want heavier coverage, this is what I use. Many times I just dab a little under my eyes and on my nose and chin. It works great and doesn't break the bank. One bottle lasts me forever!
Concealer
As I mentioned, often I just dab a little foundation under my eyes and that's my Concealer. But I have a couple more tricks up my sleeve!
Bare Minerals Concealer
This is by far the best powdered Concealer I've ever used. Where others tend to make my eyes look darker underneath, Bare Minerals Concealer lightens up my under eye region really well. It also works well on top of a liquid Concealer to brighten up my droopy old eyes.
Bare Minerals Stroke Of Light Eye Brightener
Stroke Of Light Eye Brightener by Bare Minerals is probably the best liquid Concealer I've tried. A little bit goes a long way, and it really works. So well, in fact, that my tube is empty. Looks like it's time to go shopping!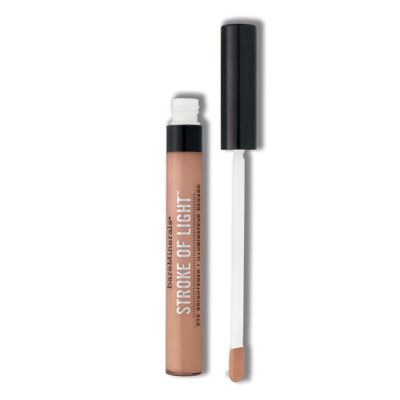 Right now you can Shop bareMinerals and receive a Free Sample plus, Free Shipping on orders of $50 or more!
Enhancer/Bronzer
Mineral Hygienics Mineral Enhancer
I use Warm Kiss Mineral Bronzer and love it. It gives my face that extra splash of color without looking like I have a ton of blush caked on my cheeks.
Bare Minerals Warmth All Over Face Color
Warmth is the first enhancer I ever used and it's another one of my favorites. Beautiful color without the heaviness of traditional blush.

Finishing Powder
Bare Minerals Mineral Veil
Also the first finishing powder I ever used. Works very well at covering and setting everything else in place.

Eye Makeup
So I was able to get a sample of this awhile back while working for another website and I have to say, it's become my favorite eyeliner of all time! It goes on easy and doesn't smudge like the other brands I've used. I love that it's so small I can carry it anywhere.
Boy that was a mouthful! Black brown is my favorite color and I've been using this mascara for years. My eyes are very sensitive to mascara and this has been one of the only ones I've tried that doesn't constantly bother my eyes.
To be honest, I use a variety of different eye shadow brands when I do use them. I go back and forth between my Bare Minerals ones, Younique, or Ulta brand.
Lips
L'Oreal Paris Colour Riche Lipcolour
I've used L'Oreal lipstick for years, it's a favorite of mine. I wear a lot of light colors but also love a few darker ones. Divine Wine is one of my favorites!
I also recently tried out Max Factor Lipstick. You can read about it here.
Avon Flavor Savers Lip Balm
Since I was a kid, Avon Flavor Savers have been my favorite lip balm (or lip gloss as I like to call it). I used to sell Avon and I always had tons of it on hand because I use it constantly. In fact, I finally had to place an order for more a couple years ago and am just now running out.
Somewhere I read that Avon changed their formula and their Flavor Savers aren't the same…oh say it isn't so Avon! I loved the old ones and I really hope this isn't true. I will find out once I order more. P.S. if you're an Avon rep who would like to be linked in this post, please contact me!
Conclusion
Well there you have it, my favorite makeup products, most of which I use every day. Or should I say everyday that I wear makeup?! What are your go-to makeup products? Please share with us in the comments!