The Best Valentine's Day Gifts for Moms
Disclosure – The Best Valentine's Day Gifts for Moms post contains affiliate links that when clicked at no additional cost to you, will generate commission for Mom Shopping Network.
Whether you're looking for Valentine's Day Gifts for a friend, family member or yourself, these gifts for moms are sure to please any woman this Valentine's Day!
If you're like me, giving hubby a hint about what to get you for Valentine's Day is always a good idea. Not that I wouldn't love anything he got me but if there's something else you've been eyeing, why not give him a heads up about it? Most guys actually appreciate that!
Here are some of the best Valentine's Day Gifts for Moms that I've found online. If you have other ideas or things that you feel make great gifts let me know, and I'll add it here.
Coffee Mug Gifts for Moms
This is one of my favorite gifts because I love so many styles of coffee mugs. I wrote a post that includes some of the best coffee mugs for moms that you might want to check out.
This is a mug for any Mom trying to tackle the daily life. A coffee mug that says Baileys and Coffee. Haha!! I am more of a Rum Chata girl, but I know many love Baileys.
So what goes better with coffee mugs? Well coffee of course!  Why not try something new and order some Koa coffee or Kona Coffee (Hawaiian Coffee Company). How about a world tour of coffee with a Bean Box?
Of course my hubby knows he can never go wrong with my favorite coffee, which is Cooper's Coffee. This coffee is not only freaking awesome, buy my maiden name is Cooper. (get it.. LOL)
Chocolate Gifts for Moms
Can you ever go wrong with chocolate? No matter what's going on, chocolate understands. Ha ha! I know it's such a traditional gift, but it's one I quite enjoy.
Of course there are a ton of places to get chocolate, it's sold pretty much everywhere these days. Just make sure that your partner knows your favorite!
Chocolate comes in many forms or varieties. Vegan chocolate, Gift Baskets, and even chocolate for that Mom who loves to travel. It's a Passport chocolate box with chocolate from around the world.
If my husband is reading this, I'd like him to know mine is Lily's Chocolate Bars.
Clothing Gifts for Moms
Oh boy, now I'm really getting excited! I've run across so many great brands lately but unfortunately I can't share them all with you here, so you'll get just a sample. Clothing can make great gifts for mom basically any time of the year.
Jane.com
Every time I get an email from Jane.com with their latest sales, I get all giddy inside! Jane is a boutique style marketplace that features the latest in women's fashion, home decor and children's clothing. But oh, their clothing is so beautiful!
Jane does carry all sizes, not in everything but I find that they do have a good selection of plus size clothing for women. But the biggest thing about Jane that you have to really give attention to is that they only offer deals for a short time.
Things either sell out or the deal is over, usually in a matter of a few days. So if you see something you like, you really need to jump on it and get it while you can!

Zulily
I started looking at Zulily years ago when my girls were small but didn't realize at the time that they have such a huge selection of clothing in all sizes.  I mean, I totally love their fashions!
At Zulily you'll find unique products from up and coming brands, some of which you won't find anywhere else, but also household-name brands. As well as plus size women's clothing they also carry traditional women's sizes, men's clothing, children's clothing, home decor, health and beauty products.
You actually can't go wrong shopping at Zulily, seriously…if you visit and can't find something you like, I would be totally shocked!


Lane Bryant
Lane Bryant
is a favorite for plus sized women. When you shop at Lane Bryant as a plus size woman, you're not the exception, you're the norm (which isn't true at most places).
They take pride in plus sized fashion from their body-positive messages to the fact that they use real plus size women as models (not a size 8 that they're telling everyone is plus sized, like most stores!).
Jewelry Gifts for Moms
Pura Vida
I was lucky enough to review Pura Vida Bracelets awhile back (you can check out that post here if you're interested) and received a beautiful bracelet pack. Not only are their products gorgeous, but their mission is too. Every bracelet you purchase from Pura Vida helps provide full-time jobs for local artisans in Costa Rica. How cool is that?
They have such a wide selection of bracelets, there's something for everyone! Visit the Pura Vida website to see all their stunning products.
Many Moms love something a bit more tailored to them, like custom jewelry can be. So Simply Quaint has custom hand stamped jewelry that is so unique, and perfect for any Mom, or woman in general.
The music girl in me just loves this copper music ring. So if you are reading this hubby, here is another idea!
Household Gifts for Moms
Grove Collaborative
So you might not think this would be a great gift for Valentine's Day, but to me, it's perfect. Imagine your household products showing up at your doorstep every single month! No need to go to the store, no need to fight the crowds. Or spend extra money you weren't planning to on additional items you really don't need.
Grove Collaborative (in case you're here for the first time and haven't read my other posts like this one, this one, and this one here) is a service that ships you household products every single month.
A few of the great things about Grove is that the products they carry are eco-friendly and all natural. For the most part, they're cheaper than buying the same product at the store. And I love the fact that you can customize your order every month.
If you can talk hubby into this for V-Day, it will give you back so much time. Not to mention peace of mind (healthy products to use!). You won't regret it.
Home Decor Gifts
I can write an entire post on this alone (and have! See where to find the best deals on farmhouse decor here)! If you're a regular reader than you know that we're currently updating our house a little bit at a time.
Getting new pieces of home decor a little at a time has been so fun. And if you know a person's style, it can be the perfect gift. But it's especially fun if you get to pick out your own.
I love going shopping with hubby for special occasions. I love the fact that he let's me pick out my gifts. That way I know I'm getting exactly what I want and Decor Steals is one of my favorites.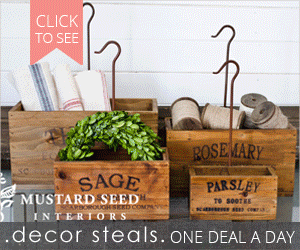 A Night or Day Out
Time alone with your guy to enjoy his company is at the top of the list for many moms. Between the constant stress of work, kids, household duties and just life in general, many couples don't take enough time to just be together.
Tight on money? Consider checking out sites like Groupon that have deals on date night events. These usually include dinner, a movie, or other activities in your area. You can even get great deals on Hotels if you want to have an over night getaway.
You might even want time alone or with your girlfriends. So if this is at the top of your Valentine's Day wish list, let your man know. That means no phone calls, no guilt trips, just a night away with your girlfriends to enjoy their company.
Alone Time for Moms
Sometimes one of the best gifts is the gift of alone time. If you are a busy mom and just never get 5 seconds to yourself, this could be a perfect gift. Just time alone, or with a friend with no stress or interruptions.
Plan an afternoon lunch date with a friend. Maybe quiet time to work at the library or coffee shop. A day of shopping alone. Whatever does it for you, you deserve a break today! (You know you just sang the McDonald's theme song in your head…or am I the only weird one? LOL!)
Sometimes all moms want is just a break. (Side note: If you have the ability to make that happen for another mom sometime, please do so.) Every mom deserves to take time to do things she loves, including you.
Well there you have it, the best gifts for moms! Which one would you love to receive, or would you give to someone else?
Studies show if you liked this post, you'll also find these ones helpful:
Ultimate Coffee Lovers Gift Guide
If you enjoyed this post, please Pin it, we'd really appreciate it!