With Mother's Day being right around the corner, I thought it was fitting to do a post on the best Mother's Day gifts. I know that 'best' is a relative term, I simply mean a variety of gift ideas that I think will appeal to most moms.
I know Mother's Day can be a difficult holiday for some of us. Check out my post about how to have a happy Mother's Day without your mother here.

This post contains affiliate links, which means if you  make a purchase, we receive a small commission at no cost to you. To learn more, please visit our Disclosure Policy.
Mother's Day is a holiday that most of us enjoy, a day to celebrate mothers everywhere. But let's face it, sometimes our loved ones could use a little help in the gift giving department. Hopefully the ideas below will be helpful and give you gift ideas to share with your family. Or maybe even give you good ideas about what to get the mom in your life.
Here are a few ideas for Mother's Day Gifts
Books
I've always loved to read and appreciate a good book. When my kids were small, I stopped reading completely for years. I just felt like I could never fit it in between everything else (truth be told, I think I really could have if I would have prioritized better). That's probably part of the reason why I love reading so much now.
Usually I choose books that help me to better myself in some way, whether they are about blogging, business, self-help, parenting or faith. Need suggestions? Check out this post that has a few good book choices.
Desk Supplies
If you want to know the truth, I'm a little bit of an addict…a Post-It addict, that is! (Well okay, and chocolate. And coffee. Moving on…) Working at home means I like my desk organized (don't laugh…I know where everything is) and love having pretty things all around me- wall plaques, pencil holders, and yes, colorful Post-Its to help me remember everything! Seriously, I use them every single day, and I can't ever seem to get enough.
If you or the mom you're buying for have a home office, you might like this post about Products You'll Want in Your Home Office
Children's Artwork Necklace
You can actually now get a children's artwork necklace, how cool is that? Many designers will turn your child's drawing into a beautiful piece of jewelry. Necklaces not your thing? You can also find Children's Artwork Keychains, Bookmarks, Bracelets and more.
I really love this Mother's Day gift idea because it's something I think most moms would truly cherish for a lifetime. There's nothing sweeter than drawings from your kids and this is a way to preserve them. This is something you will always have and someday you'll be able to look back and and remember when your child gave you this unique gift.
Handbag
What woman doesn't love a stylish handbag? (And if you don't, please don't send me hate mail, it's just a figure of speech!) What I love about handbags is the variety. You can go large, medium or small. And the styles and colors, oh my!
One thing about gifting a handbag is that you have to know the person's style and taste. But hey, that's what returns are for, right?
Handbags can also be purchased quite affordably at places like Target, Walmart, and Amazon. But one of my favorite places to get handbags is Wilson's Leather. I have gotten $200 genuine leather handbags for like $29, no joke!
See what Wilson's Leather has in stock here–> Save on Women's Handbags and Accessories at Wilsons Leather
Wall Décor
Wall Decor makes a great Mother's Day gift because there are so many varieties. You can focus on what your gift recipient really likes, whether it's a scenery picture, inspirational words wall decor, or even a custom family portrait.  
You can easily find wall decor online at an affordable price. A few of my favorite places are Decor Steals, Hobby Lobby, and Etsy, just to name a few.
Need help on how to choose Wall Art? Have a look at this post–> How to Choose the Best Wall Art for Your Space
Home Decor
Redoing a space in home seems to get most moms excited. Home decor can change the entire look of a room, even if it's not in the budget to remodel or do big changes. That's why home decor makes such a great Mother's Day gift!
These days Farmhouse Decor is all the rage, and if you've followed me for very long you know I love me some farmhouse decor!
There's just something about farmhouse style. It's bright and cheery, makes you feel right at home, and doesn't have to be perfect!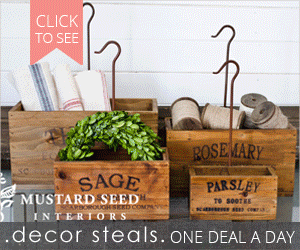 Need some ideas?
Here are our most popular posts on Farmhouse Decor!
The Best Sites to Find Farmhouse Decor on a Budget
The Biggest Farmhouse Decor Trends of 2018
The Best Stores to Find Unique Farmhouse Decor on a Budget 

If you're still unsure of what to get mom, here are a few more ideas!
The Ultimate Coffee Lovers Gift Guide
Well there you have it! I hope these Mother's Day Gift ideas are helpful in your search for that perfect gift for the mom in your life.
If you enjoyed this post, please Pin it!