While online shopping is all the rage (and personally I love it!) sometimes you just feel like going in to a store to shop for farmhouse decor, am I right? But what are the best stores to find unique farmhouse decor on a budget? Well I can think of a few!
There's something about being able to touch and feel an item before you buy it. Yes I love to shop online, and some of the stores listed below are online as well, but some aren't.
This post contains affiliate links, which means if you  make a purchase, we receive a small commission at no cost to you. To learn more, please visit our Disclosure Policy.
This post covers stores that aren't listed in my other post The Best Sites to Find Unique Farmhouse Decor on a Budget. So you might want to check out that post also for more good ideas if you haven't seen it already.
Stores that Sell Unique Farmhouse Decor on a Budget
Ross Dress for Less
Yes, I'm serious! I think most people think clothing when you think about Ross, but they have so much more. And although they carry all styles of decor, if you know what to look for, you can find some really great farmhouse decor. I've seen super cute picture frames, candle sticks, coffee mugs and more at our local Ross. And Ross is one of the stores you can't shop at online, so you'll have to find a store near you to check them out.
TJ Maxx
My first visit to TJ Maxx was in 2001 when we visited relatives in New York. I had no idea we even had the stores in Oregon! Well in the years after that although we drove by a few (there are none in the town I live in) we just never stopped. Probably because we were always headed somewhere else and were on a time limit, lol. But about a month ago we finally (only took us 17 years, ha ha!) ducked into a TJ Maxx about 25 miles away from our house.
They remind me a lot of Ross, with tons of clothing, beauty products, and home decor. I was happy to find what I was looking for which were a few items to add to my Rae Dunn collection. So if you're into Rae Dunn, it's definitely a good store to visit. They also have a wide variety of home decor including farmhouse styles.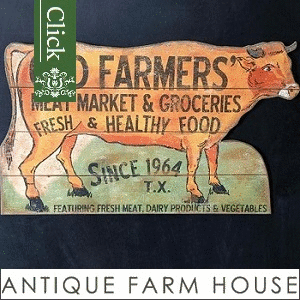 Home Goods
OH-EM-GEE! One of my favorite stores to find farmhouse decor on a budget, Home Goods has great prices that won't break the bank. I have bought both farmhouse decor and beach style decor from Home Goods. And they are my favorite place to find Rae Dunn coffee mugs and other collectibles! No online sales here, but trust me, heading down to the store is totally worth it. They have SO.MUCH.GOOD.STUFF!
Cost Plus World Market
I just discovered Cost Plus World Market last summer and let me tell you, I'm in love with them! They do give you options as they sell an array of decor styles, which I love. I like it when there's something for every taste in one store. Probably my favorite thing I've purchased there is my bronze coffee mug rack that sits on my coffee bar, I just love it. They have farmhouse tables, farmhouse pillows, farmhouse storage, farmhouse kitchen favorites, and much more!
Here's a sample of the farmhouse decor you can find at World Market

Hobby Lobby
Just recently a new Hobby Lobby opened about 25 miles from me and I haven't even been there yet! (I think I need to get out more!) So I have never been to a Hobby Lobby but from what I've heard and have seen online, they are awesome!
So much farmhouse decor it's ridiculous! I am very excited to go there and see for myself all the unique decor. And I know that Hobby Lobby is very budget-friendly, which is always a good thing. I love getting more bang for my buck, don't you?
Kirkland's
Kirkland's is a recent discovery for me as we don't have any in Oregon. I didn't realize there were so many stores across the country! I really like their selection of home decor, again, in all styles. But there is no shortage of farmhouse decor at all price points, so you really can find items to fit your budget.
If you don't have a Kirkland's in your state you can visit the Kirkland's website to see what they have to offer. But if you do have one near you, go on in and find some unique farmhouse decor!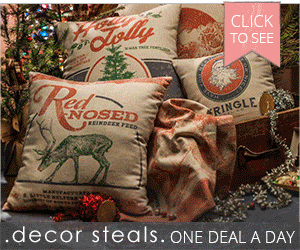 Michael's
When I think about Michael's I used to think only of crafting, decorating wouldn't really come to mind. But the last time I visited I saw so much home decor and it was really affordable. Lots of farmhouse tins and bottles, flowers and garden decor. Just so much cute stuff, it's worth paying Michael's a visit to see what they have in stock.
Note: You can earn cash back at many of these stores (the amount varies) when you shop through EBATES. It's easy and free to sign up. Visit EBATES and start earning cash back on every purchase.
More Options for Finding Farmhouse Decor on a Budget
Second Hand Stores
Second hand stores are a great place to find unique farmhouse decor on a budget. We have a place near us called Simple Needs that is the neatest little shop. They carry mostly farmhouse style furniture but also have farmhouse pillows, wall art and other decor. We've made a few purchases there including our entry bench, large antique wall clock, farmhouse pillows and colored mason jars. I'm sure you have something similar in your area if you search for it. It also feels good to support local businesses and we try to do so whenever we can.
Local Shops and Boutiques
Real Deals
This is a local shop that carries brand new decor.  I have to say that not everything is priced to fit my budget,  but they do have some items that are reasonable. Plus they have a clearance section which is always a good option. You can go to the Real Deals website and search for a store in your area as they also do not sell online. There aren't many stores in the Eastern United States, most are in the West and Midwest.
Aunt Bees House
One of my favorite local shops (well almost local, they're about 25 miles away) is Aunt Bees House. They  are a vendor mall that has over 100 local vendors and literally has something for everyone! Antique, upcycled, recycled, vintage, home, garden and brand new items. Pretty much every single type of home decor there is, Aunt Bees has it.
They recently held a Farmhouse Home Show in my hometown which was a blast (I went three times!). I was so happy to find a piece of furniture that I had been searching for, for months! It's an old style farmhouse buffet that now houses my Rae Dunn collection and other miscellaneous home decor and kitchen items.
Visiting local shops and boutiques is a great way to find farmhouse decor on a budget.
I had planned on adding more online stores to find farmhouse decor but alas, this post is getting rather long so I think I'll save it for another time!
Which is your favorite store to find unique farmhouse decor on a budget? Tell us your favorite in the comments! And if you liked this post, please Pin it!