I was browsing one of my favorite new sites to find great stuff and I found this cute whimsical kitchenware. Yes, some of it is a little on the pricey side (for me, at least) but I still wanted to share as I really like it. I think everything here would go great in a black and white kitchen, maybe with a splash of red!
Disclosure: This post contains affiliate links. To learn more, visit my Disclosure Policy.
Is it just me or does the black and white checkered pattern remind anyone else of Alice in Wonderland?
Take a look below at this whimsical kitchenware, you'll fall in love with it!

Maybe those aren't your style. The great thing about the internet is that there's something for everyone because there are millions of products out there!
My husband gave me a set of pots and pans for Mother's Day (yes it was one thing I had told him I wanted) and they're not near as whimsical as the ones above, but I love them. In fact, you can find the set of pans here that I own, and I really recommend them, they work great. Plus I love the color!
And you know what would go really great with my set of pans? This complete set of Mason Jar Ceramic Kitchenware! It comes with four measuring cups, a spoon rest, set of measuring spoons, utensil jar and mason jar. I just love it! (Hint hint for the next holiday, honey!) 🙂
There are also more matching pieces including a butter dish, bread bin (or box as I like to call it), cookie jar, and  salt and pepper shakers.
Pretty much anything Mason Jar is all the rage this year. Personally I'd like to get a set of cups or mugs, maybe something like these  Mason Jar Mugs on Amazon.
The truly fun thing about setting up your kitchen is that you can decide to change it up anytime you want. You might only change a piece or two and make small, affordable changes, or you might want to give it a complete overhaul and total makeover of your kitchenware and decor. It's truly whatever your time and budget allows.
But whatever you decide, whether you're into whimsical kitchenware or something totally different, your kitchen is your own. Don't be afraid to get creative and add something new as your budget allows.
What's your favorite kitchenware item that you own? Share it with us in the comments! And as always, if you like this post, please consider sharing on Twitter or Pinterest using the buttons to the left.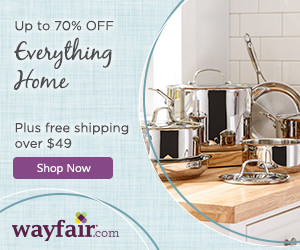 Hi! I'm Kimi, a career stay at home mom turned freelance blogger. I love to write about working at home and business, saving money and shopping, and motherhood and marriage. A devoted wife and mother of four, I love the beach and NEED my early morning coffee!
Latest posts by Kimi Clark (see all)